Canada's knowledge economy enjoys a long and enviable history of excellence in innovation in both information and communications technology (ICT), and gaming and digital arts.
Lisa A. Bastian, CBC (May 2011)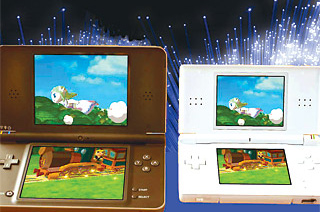 Canada's knowledge economy enjoys a long and enviable history of excellence in innovation in both information and communications technology (ICT), and gaming and digital arts. To reach its goal of achieving world-leader status in "all things digital," the country has been heavily investing in people, hardware, and software, as well as in exploring new ways of supporting the industry from the public and private sectors.
INFORMATION & COMMUNICATIONS TECHNOLOGY
Statistics Canada reports there are 31,500 Canadian ICT companies, and that most are small office/home office enterprises and small businesses serving local clients.
The Information Technology Association of Canada (ITAC) is by far the organization with the most up-todate, accurate data about Canada's ICT industry, and its talented work force. Its member companies comprise more than 70 percent of the nation's 572,000 sector jobs.
According to ITAC's February 2011 report, "Growing Canada's R&D Intensive Economy," only 11 of Canadianheadquartered ICT companies reported 2009 revenue of $1 billion or more; and about 217 others reported more than $10 million in revenue. "Of this cohort…of companies, all but a handful are export-oriented, R&D-intensive firms," points out the report's authors. "They represent the future of Canadian innovation capacity in ICT." Their goal, states the association, is to achieve "the success of a billion-dollar global enterprise."
ITAC members work in every critical industry area — from microelectronics, software, and electronic content, to hardware, telecommunications, and Internet services to ICT consulting services. Association companies are responsible for contributing $140.5 billion in revenue, $6 billion in R&D investment, $31.4 billion in exports, and $11.4 billion in capital expenditures to Canada's economy every year. ITAC further reports that this sector represents 5.5 percent of Canada's gross domestic product (GDP), and made up 9.4 percent of all real GDP growth since 2002. According to the new 2011 Branham300 list of Canada's leading IT companies, Research in Motion (develops/designs Blackberry phones) is ranked number one on its top 10 list, followed by BCE (wireless and Internet); Rogers Communications (wireless and Internet); TELUS (wireless and Internet); Celestica; CGI Group; Shaw Communications (Internet); Softchoice; and MacDonald, Dettwiler and Associates.
ICT is a critical component in Canada's R&D-intensive economy, responsible for about 40 percent of business R&D performed in the nation — more than double the amount of any other sector, according to ITAC. And while the industry is focused on driving innovation, productivity, and competitiveness, it can't achieve success without government support.
In May 2010 the government of Canada unveiled a national plan to develop a Digital Economy Strategy for the country involving governments, the private sector, academia, and the public. In November 2010, Industry Minister Tony Clement outlined key elements of the strategy at an industry-related conference. One welcome announcement: A new initiative making ICT adoption a core part of lending activities at the Business Development Bank of Canada (BDC). Specifically, BDC will help companies evaluate their level of ICT integration, said Minister Clement, and "offer new consulting services to enhance their capacity to use these technologies." Additionally, BDC will "increase efforts to market financial products" to companies needing capital to buy new equipment.
"Success in a global economy requires us to be at the forefront of digital technologies," summed up Clement. "We can, together, build a digital economy that will be the envy of the world."
GAMING & DIGITAL ARTS ARE AT THE FOREFRONT
Canada is at the "top of its game" when it comes to attracting and retaining digital media companies, employing more than 14,000 top-notch creative professionals in firms that develop and/or publish programs for game boxes, personal computers, mobile devices, and much more. Many are graduates of Canada's innovative gaming studies programs offered at 60-some universities known for producing talent unmatched in the world.
The Canadian video and computer games industry has four outstanding strengths: First, Canada's labor pool is highly educated, and multiple generations are "wired," affluent, and live/work with digital technologies of all kinds. Second, Canada's proximity to the United States is attractive to American firms seeking lower production costs, and Euro/Asian gaming companies wanting to enter the North American marketplace. Third, government support of the industry is relatively strong across provinces — and growing — for developers and publishers alike. And, fourth, Canadian cities overall are deemed as safe places to work and live; and industry cluster cities are attractive, "hip" locales.
The gaming and digital arts sector consists of five key areas:
1. Console games — Mass Effect 2 (Bioware), Bioshock 2 (Digital Extremes), EA Sports Active (Electronic Arts), Splinter Cell: Conviction (Ubisoft), Max Payne 3 (Rockstar Vancouver)
2. Casual games — Webkinz (Genz), Pop-A-Tronic (Big Blue Bubble)
3. High-tech serious games — defense simulation from CMLabs and CFB Gagetown, industrial training from Artifact Software and Xpan Interactive, math and science games
4. Mobile games development — from Other Ocean Interactive and IUGO, among others
5. Tools development involving animation tools, digital models, and artificial intelligence. Canada is especially recognized for firms (e.g., Side Effects and Rain Maker) developing amazing 3D animation and visual effects tools that consistently raise the bar on how gaming should be experienced on a variety of emerging (e.g., the iPad) and existing platforms.
In addition to the companies named above, the long list of major gaming publishers in Canada includes VUG, Groove Games, Disney, Dreamcatcher, Telos Entertainment, Eidos Montreal, Microsoft, Activision/Beenox, Longtail Studios, and Gameloft.
While more than 260 gaming firms of all sizes are located through the country, there are three clearly identified and internationally acclaimed gaming, video, and motion picture hubs in three hip, urban centers. They are ideal environments for attracting digital media firms, tool developers and animation studios, and game developers and game publishers.
Vancouver and nearby Victoria in British Columbia are home base for innovative game developers (e.g., Kung Fu Factory, Radical Games [Activision], Relic Entertainment [THQ]). Toronto is recognized for its deep pool of programmers, animators, and designers; its schools offering more than100 digital gaming educational programs; and leading companies (e.g., the Toronto development branch of Rockstar Games, known for its work on games like The Warriors and Grand Theft Auto IV [PC]). The Montreal game development industry employs more than 5,000 creative individuals at companies such as Ubisoft, Eidos Interactive, Electronic Arts, and Activision.
Other significant clusters for gaming and digital arts companies are found in Edmonton (Alberta), Winnipeg (Manitoba), Halifax (Nova Scotia), Charlottetown (Prince Edward Island), and London (Ontario).