Competitive costs, a pro-business government, and high quality of life make Canada a magnet for international business.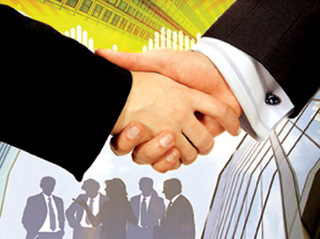 Even though economic conditions are tough around the world, business and innovation will continue. Taking a company through an economic downturn and into the upswing is always a challenge, but far easier to accomplish with the support of a fiscally responsible government, strong diversified economy, pro-business climate, and a highly skilled and loyal work force. When the upswing starts, there is no better place to be than Canada.
Canada's economic strength lies in the diversity and vitality of its natural-resource industries that supply the world with ore, oil and gas, lumber, and other commodities. Its rapidly growing high-tech clusters — information and communications technology (ICT), biotechnology, nanotechnology, advanced manufacturing, electronics, aeronautics, pharmaceuticals, agri-food, and photonics — have earned a global reputation for groundbreaking research and discovery. Combining this knowledge base with thoroughly modern transportation/delivery and telecommunication infrastructures, and easy access to global supply networks, makes Canada's business climate second to none.
Competitive Business Costs
According to the Economic Intelligence Unit's global business rankings for 2009–2013, Canada ranks first in the G7 as "the best place to invest and do business." Key trading partners are the United States, Europe, and Asia. The North American Free Trade Agreement (NAFTA) gives Canadian businesses easy access to the best consumer market in the world — more than 443 million consumers with a combined GDP exceeding US$15.4 trillion. Canada and the U.S. have the world's largest trade relationship, with two-way trade valued at $712 billion in 2007. (Unless otherwise specified, all dollar amounts are in Canadian dollars.) This averages about $1.3 million dollars in trade crossing the border every minute. Because of its location, competitive business costs, and affordable, multilingual, and talented work force, Canada placed second in the G7 and sixth among 62 countries surveyed in the 2006 A.T. Kearney Globalization Index as an outsourcing destination. Canada also placed second for technological connectivity, one of the main components of the index.
A key attraction for many companies is Canada's low cost of doing business. The country provides the lowest payroll taxes in the G7 and by 2010 Canadian-based companies will enjoy an average corporate tax rate advantage of more than 4.5 percent over U.S.-based firms. The federal corporate income tax rate of 19.5 percent for 2008 will drop to 19 percent in 2009, 18 percent in 2010, 16.5 percent in 2011, and 15 percent in 2012. An array of generous tax credits and other incentives for capital investment, research and development, and work force training makes manufacturing and scientific R&D more affordable than ever before. For example, the Scientific Research and Development Program provided more than $3.8 billion in tax incentives to the private sector, which in turn invested more than $15 billion in research and development last year.
KPMG Canada's Competitive Alternatives 2008 Special Report: Focus on Tax (part of the 2008 Competitive Alternatives — KPMG's Guide to International Business Location report) analyzed corporate taxes paid in Australia, Canada, France, Germany, Italy, Japan, Mexico, the Netherlands, the United Kingdom, and the United States. Results showed that:
• Canada is the third-least expensive country for corporate taxes;
• Out of the 35 large cities, Vancouver, Toronto, and Montreal are in the top seven for low tax costs;
• Canada spends more money on education, as a percentage of GDP, than nearly every other country in the world (second only to the United States in the G7); Canada is also ranked first by the Organization for Economic Cooperation and Development (OECD) for higher education achievement — more than half of its citizens between the ages of 25 and 35 have a post-secondary education; and according to global M.B.A. rankings compiled by Financial Times, six Canadian schools of management were ranked among the top 100 in the world for 2008.
Fiscal Responsibility
The 2008 Canadian budget plan projects the country's 11th straight surplus budget. Canada's strong fiscal performance has helped to considerably reduce its debt over the last ten years. The OECD projects that Canada's net debt-to-GDP ratio will decline to 19.5 percent in 2009, less than half of the projected average of 51.9 percent for all G7 countries.
This strong financial position gives Canada the ability to liberally invest in its future on a number of fronts — tax relief, healthcare, education, science and technology, and infrastructure. For years, Canada has been spending heavily every year to modernize its infrastructure, with more than $33 billion already committed, the single largest Canadian investment in public infrastructure in since World War II. This includes more than $1 billion for the Asia–Pacific Gateway and Corridor Initiative that will develop a state-of-the-art transportation and communication infrastructure for facilitating global supply chains between Canada and Asia — which means faster and more efficient speed to market.
Partnerships Flourish
The Canadian government supports scientific R&D by funding its own research, as well as partnerships among universities, federal and provincial agencies, and the private sector. Programs that target the knowledge infrastructure include Technology Partnerships Canada, Canadian Network for the Advancement of Research, Industry and Education (CANARIE), and cooperative sectoral research programs that focus on the needs of specific industries, such as Pulp and Paper Research Institute of Canada.
As a result of this commitment, Canada leads the G7 in public sector R&D investment as a share of GDP (the public sector currently finances 85 percent of primary research in Canada). Much of this research is conducted at universities — the Government of Canada will spend over $2.7 billion in 2008–2009 to support R&D conducted in post-secondary institutions. In addition, since its creation in 1997, the Canada Foundation for Innovation has invested $3.8 billion in more than 5,000 research projects in 128 Canadian universities and colleges, research hospitals, and research institutions across the country.
Key trade associations also work closely with federal and provincial governments to improve the competitiveness of their industries. For example, the Government of Ontario and the Canadian Manufacturers & Exporters (CME) recently launched a joint initiative help small and medium-sized companies cope with the economic downturn by becoming more productive and competitive. With $25 million in funding from the province, CME will work with manufacturers to improve their global competitiveness and find new markets through programs that emphasize innovation and best practices.
Quality of Llife
Canada is a land of immense natural beauty with some of the most stunning landscapes in the world. Canadians enjoy universal healthcare, an outstanding education system, reasonable living costs, good wages and benefits, and safe, clean cities — some of which are the among the most cosmopolitan in the world. Canada is also culturally diverse, with over 200 languages identified as mother tongues.
The World Competitiveness Yearbook 2008 ranked Canada as the number-one place to live in the G7 for overall quality of life, as did the United Nations Human Development Report. Another quality-of-life survey of 215 world cities conducted by Mercer Human Resources Consulting Group placed five Canadian cities among the top 25. So it is unanimous — Canada is a great place to live.
Into the Future
The Canadian government is working hard to minimize the effects of the economic downturn on its hard-hit sectors, including the manufacturing and financial industries. It has already invested $21 billion in tax relief for businesses across the country to help them increase productivity and maintain or create new jobs.
"These broad-based corporate tax reductions will strengthen Canada's business tax advantage and improve the international competitiveness of Canadian businesses," says Industry Minister Tony Clement. He also indicates Canada will continue to invest in innovation and science and technology. "My goal," he says, "is to ensure our marketplace framework policies are solid and competitive, and that Canada comes through this economic downturn stronger and more prosperous than ever."